BIO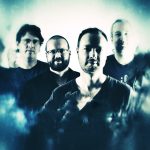 In the increasingly overwhelming jam scene, a scene stuffed with too many of the same flavors, The Station delves into a different path, incorporating a deep rooted rock sound with seductive sax and precision playing.  They perform thinking-mans music, a colorful concoction of diverse sounds fused together into an elaborate brew.  Without fear, they deliver focused, melodiously mesmerizing forays, taking elements of the past (think Led Zeppelin and Frank Zappa) and fusing them with slivers of metal and funk.
The Station is Dave Carter, drums; Jeff Cunningham, bass and vocals; Dave Littrell, vocals, guitar, and tenor sax; Michael Sullivan, guitar and vocals; and Chris Miller, keys.
Where the complications arise is in a complete and definitive definition. With the Prog Rock scene already risen and fallen, the jam band scene encompassing everything from The Roots to The Grateful Dead, and EDM placing laptops at the forefront of live music, placing a finger on The Station sound is daunting: It envelops little facets of all that lies in-between. Swampy delta blues coupled with American funk, meshing with 80's metal and a touch of Tortoise. Taken together, they envelop a wide swath of modern music, combining influences to produce a decadent sound that's intriguing to ears of all types of listeners. "We're really trying to infuse progressive rock and metal into the rock, dance, and funk genres" says Carter.
Discography
FUMUNDA (2001)
all that lies between… (2004)
Playground (2005)
Speed of Sound (2009, live double album)*
The Mother's Day EP (2010)
Head On Tomorrow (2017)
* 2009 Home Grown Music Network's "Live Album of the Year"